Expand Your Impact, Influence, and Income with Your Next Best-Selling Kids' Book
Ready to Write Your Next Best-Selling Kids' Book?

Parenting, personal development, and leadership book authors all have one thing in common—they want to make a difference in the world. And what better way to do that than by writing a best-selling kids' book? Not only will a kids' book allow you to expand your brand and gain more visibility, but it will also directly impact and empower future generations. So, how can you turn your current book into a best-selling kids book in just 3 months (or less!)? 
When you work with me, the process is much simpler than you might think.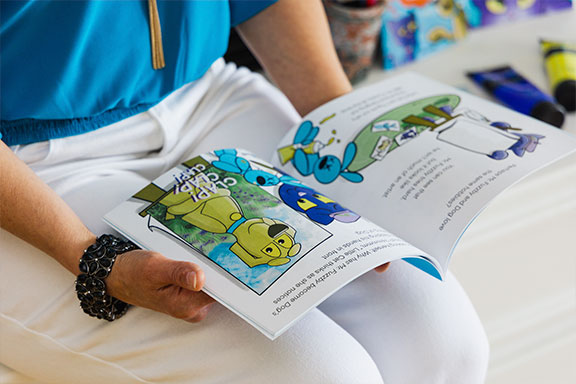 You're only 3 months away from a
best-selling kids' book— watch this video to discover how!

You have the expertise, I have the program. Together, we can help you write, illustrate and create a kids' book that will be loved by parents, appreciated by experts, and shared by families. Not only that, but with our program you can promote, advertise and expand your business. You will have adult, family and kid readers who know and love you!
3 WAYS TO WORK WITH ME

Your Next Best Selling Kids' Book offers three levels of help to expert authors:
Your Next Best-Selling Kids' Book Done-for-You
(3 months)
So you have an amazing idea for a kids' book, but you're short on time and need someone to handle the details for you? Look no further! I offer a done-for-you service where all you have to do is confer with me about your goals and check in occasionally as we complete the book. I'll take care of the researching, kid-sizing, illustrations, and publishing in just 3 months. This way, you can sit back and relax knowing that your next bestseller is in good hands. 
Are you looking to write a children's book, but don't know where to start? Writing a book can be a daunting task, but with the right coaching, it can be an enjoyable and rewarding experience. That's why I offer "Your Next Best Selling Kids' Book Coaching," where I will walk you through the entire process, from researching and writing your book, to publishing it. I will also do the illustrations for you, so you can focus on the writing. With my help, you will be able to write a best-selling book that you and your readers will enjoy for years to come. 
Your Next Best-Selling Kids' Book Coaching
(3-4 months)
Your Next Best-Selling Kids' Book Illustration
(2-3 months)
As a professional illustrator, I have experience bringing stories to life through art. Let's work together to create the perfect illustration for your book and bring your story to life in a way that is sure to capture the imagination of young readers. I will work with you closely to understand your vision for the book and ensure that the illustrations reflect your unique style. With my help, your book is sure to stand out from the rest and capture the attention of young readers.


If you have a parenting, personal development, or leadership book that you want to adapt into a kids' book, now is the time. And the best part is, you don't have to wait years or even six months to do it!
In just 3 months (or less!), you could have your own best-selling kids' book – one that complements your current non-fiction book, expands your reputation as an expert, and allows you to gain expanded visibility and clients.